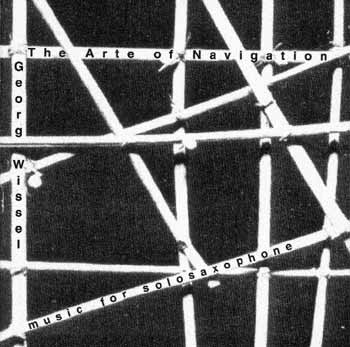 Georg Wissel
The Arte of Navigation


Go to the mailorder page


Listen to a 30 second soundfile of this release (~80kB).


All Music Guide


Jazz Weekly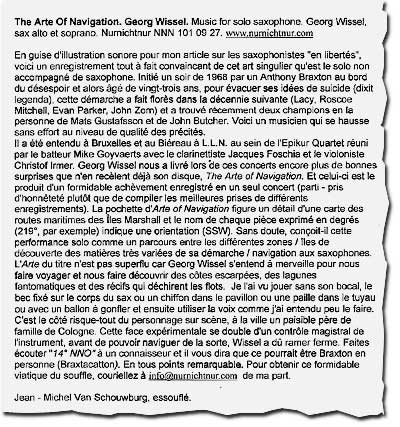 Jean - Michel Van Schouwburg, essouflé
Wissel plays alto and tenor in the course of these seven concentrated instances of outward bound saxophonics, recorded before an audience in Cologne last September. Navigation is an apt metaphor. These waters are scarcely uncharted these days, but they remain hazardous, posing risks through shallows of cliche and reefs of formlessness. Wissel not only carries an impressive cargo of once exotic techniques, he also steers an assured and efficient course. Overtones and multiphonics are incorporated as the stuff of the music rather than tacked on as arbitrary embellishments. It all makes sense and is the right length – less than 40 minutes, enough to hold the imagination without draining it.
Julian Cowley, THE WIRE, July 2002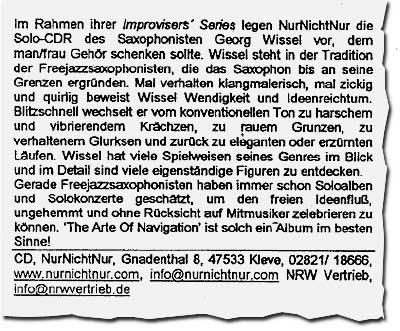 My Way 53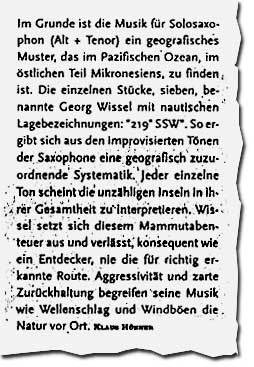 Westzeit 03 / 02
Many musicians In the sphere of improvised music make solo albums these days; solo albums in the strictest sense, that is, albums on which they can be heard playing entirely alone. It's something which young (or less well-known) musicians do in order to state their vocabulary, and to use as a calling-card; sometimes that's ill-judged, because the solo format is the toughest of all when it comes to delving deep into accumulated experience and finding enough to say to carry an hour of music unaided.
Saxophonist Georg Wissel has some trouble in this regard. His style is built around the now-familiar multiphonics and timbral distortions of the modern sax repertoire; he's a gutsy, often loud player who reminds the writer a little of Bertrand Denzler, particularly in the way in which he allows notes to bleed together during his shouted phrases, creating a semi-articulated smear rather than a scalar passage.
In this respect he's very capable, but he does find it a bit hard to think of things to do for a whole CD. It ends up sounding like a practice tape; a good practice tape, undoubtedly, but not a recording which has been thought about, or a recording made by a player with a bottomless resource of musical ideas. Instead, we get the all-too-common parade of techniques: playing unde4rwater, use of a non-standard reed, tapping and clicking on the keys and so on. The back page rather pointlessly Claims "no overdubs" - a routine Statement these days for solo CDs and, as in this case, not necessarily indicative of any previously unheard gee-whizz sounds inside.
It would be unfair to fail to state quite clearly that Wissel plays well here. He has guts and a sense of adventure. It's probably a little early for him to be recording a solo Statement, but there are moments here which are really impressive. It was recorded by Joachim Zoepf, whose solo CD on the same label seemed somehow more coherent, and from whom we hope and expect to hear more in the future. If there are like-minded musicians around him and he takes the time to develop his ideas more deeply, we will undoubtedly hear more, and better, work from Wissel too.
Richard Cochrane
Musings 6/02