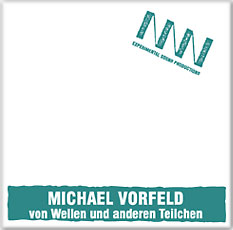 1. Synchronvolumina 10:48
2. Wellenschub 6:25
3. leichte Dehnung 4:23


Go to the mailorder page


Listen to a 30 second soundfile of this release (~80kB).


All Music Guide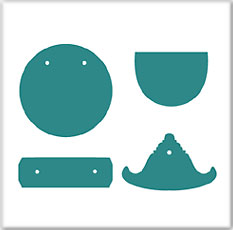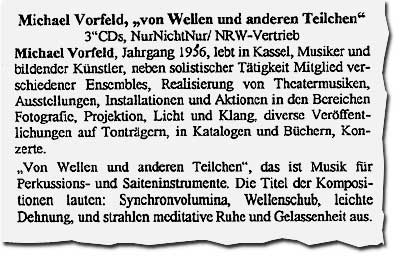 My Way 50
In the past we have reviewed more work of Michael Vorfeld, so it is nice to have another piece of sound-art in front of us. This time music for percussion and stringed instruments.
The first tack starts with a constant sharp string sound while this proceed you hear from time to time the more softer sound of brass bowls with their typical resonance. As a start this track highlights the contrast in sound between both instruments. In track no. 2, several bowls are be played constantly which creates very different tunes. The tunes tumbles between each other and seems to come from everywhere around you, this combined with the resonance a strange piece of music is created. Track no. 3 highlights the resonance that both strings and bowls are able to create. Both instruments are played softly creating high and low resonance.
General conclusion: For those who loves sounds and contemporary classical music. Music of NurNichtNur have always a high quality level.
Geert De Decker at Sztuka Fabryka