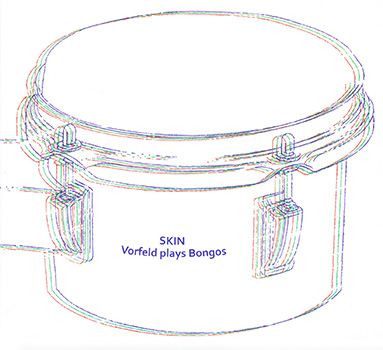 Michael Vorfeld – Skin – Vorfeld plays Bongos


Go to the mailorder page
1. SKINS & FINGERS 3:04
2. HANDS & KNUCKLE 4:54
3. FINGERTIP & STONE 4:26
4. FINGERS & THENAR 4:59
5. SKINS & BONES 5:52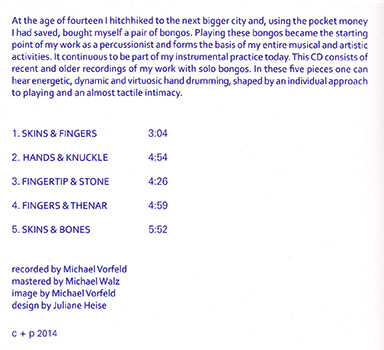 With his new Solo-CD Michael Vorfeld provides an acoustic view into the roots of his musical and artistic practice. Known for his work as a percussionist in the field of experimental and improvised music, as well as through his projects for sound and light, here he presents five recent and older, clearly structured pieces for bongos.
Buying these bongos at the age of fourteen initiated Vorfeld's intense examination into the world of percussion and marks the starting point of his entire musical and artistic activities. Playing the bongos continues to be part of his instrumental practice today.
On this CD one can hear energetic, dynamic and virtuosic hand drumming, shaped by an individual approach to playing and an almost tactile intimacy.
Michael Vorfeld, musician and visual artist, based in Berlin, plays percussion and self designed stringed instruments and realises electro-acoustic sound pieces. He works in the field of experimental, improvised music and sound art. He realises site-specific installations and performances with light and sound, works with photography and film. Besides his solo activities he is a member of various ensembles and collaborates with artists who work in many different art forms. His list of activities includes numerous concerts, performances and exhibitions in Europe, America, Asia and Australia.
www.vorfeld.org
Mit seiner neuen Solo-CD eröffnet Michael Vorfeld einen akustischen Blick auf die Wurzeln seiner musikalischen und künstlerischen Tätigkeit. Bekannt durch seine Arbeit als Perkussionist im Bereich experimenteller und improvisierter Musik wie auch durch seine Projekte mit Klang und Licht, präsentiert Michael Vorfeld hier fünf klar strukturierte ältere, sowie neue Solostücke für Bongos.
Der Erwerb dieser Bongos im Alter von vierzehn Jahren markiert den Beginn seiner intensiven Auseinandersetzung mit der Welt der Perkussion und bildet den Ausgangspunkt seiner gesamten musikalischen und künstlerischen Aktivitäten. Nach wie vor ist das Spiel auf diesen Bongos Teil seiner kontinuierlichen Spielpraxis.
Zu hören ist eine kraftvoll, dynamisch und virtuos gespielte Handtrommelmusik, geprägt von individueller Spielweise und geradezu hautnaher Intimität.
Michael Vorfeld (Berlin), Musiker und bildender Künstler, spielt Perkussion und selbst entworfene Saiteninstrumente und realisiert elektro-akustische Klangarbeiten. Er ist aktiv in den Bereichen experimentelle Musik, improvisierte Musik und Klangkunst. Michael Vorfeld entwickelt ortsbezogene Installationen und Performances mit Licht und Klang, arbeitet mit Fotografie und Film. Er ist Mitglied verschiedener Formationen und kooperiert mit Künstlern aus unterschiedlichen Bereichen. Seine vielfältigen Aktivitäten umfassen umfangreiche Konzert-, Performance- und Ausstellungstätigkeiten in Europa, den USA, Asien und Australien.