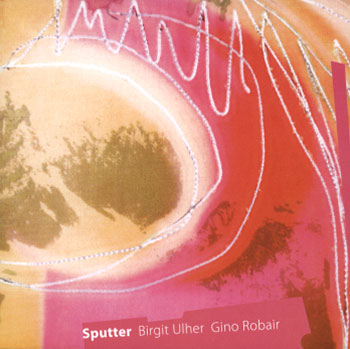 Birgit Ulher / Gino Robair - Sputter


Listen to a 45 second soundfile of this release (~95kB).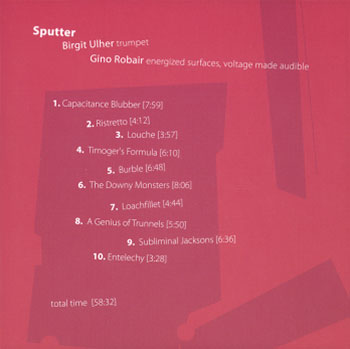 Reading "trumpet" and "energized surfaces + voltage made audible" as sources used by Ulher and Robair, one has the certainty of a totally unconventional sound morphology; that's completely confirmed by the rheumatic fever hallucinations and the electric vegetable peeling coming from the speakers throughout "Sputter". Birgit and Gino live off their respective priorities, finding hundreds of meeting points during this cycle of leaf-curling conversations where the apparent contrast of air and electricity prints instead a rare collection of ideographical aural spermatozoa whose procreative energy is immune to boredom. The immaterial yet rusted pocket money exchanged by the artists during repeated scoffing timbral outbursts and intuitive elucubrations is enough for their music to inhibit any form of relaxation as bubbles, spurts and shuffles pollute the river of instant gratification. At one and the same time lapidary and petulant, "Sputter" belongs in Creative Sources' most fertile territory.
Massimo Ricci at Touching Extremes
For years North American improvisers have gone to Europe to play with like-minded musicians; today the traffic is as frequently the other way .Sputter and Landscape: recognizable are a couple of souvenirs from Hamburg-based trumpeter Birgit Ulher's recent American odysseys that show her interaction with similarly minded Yank music experimenters. In Europe Ulher works in a variety of international ensembles and seems to have a particular affinity for percussionists. The UNSK quartet, of which she is a member, includes Swedish drummer Raymond Strid, while British drummer Roger Turner is with her in the PUT trio. So it makes sense that on these new CDs she's partnered with two of the United States' most inventive sound makers, who are also percussionists: the Bay area's Gino Robair and Chicago's Michael Zerang. Just as Ulher, like countryman Axel Dörner and Boston's Greg Kelley, is expanding the trumpet's language, so in their own ways are the Californian and Midwesterner doing the same for the percussion family. Listed as playing energized surfaces and voltage made audible on Sputter, Robair uses synthesized live electronics to extend his kit's capabilities. Not that anyone is nonplussed during the course of these improvisations. After all, Robair has matched wits with reed experimenters like Britain's John Butcher and Anthony Braxton. Sputter is practically an acoustic session. From the beginning of the Robair-Ulher meeting thrashing input signals, masticating impulses and hissing oscillations predominate. But you can still hear the puffs of colored air, spattering
triplets and buzzing lead pipe movement that can only be created orally. At various times Ulher bubbles near subterranean pedal tones that swell to aviary caws, throat slurs and eventually piercing shrills – then she adds yelping internal valve lesions. Rubato, often spewing microscopic tones, the trumpeter doesn't neglect flutter tonguing, tongue-clicking, sudden volume shifts and mouthpiece kisses. She can replicate the creak of a raising coffin lid to meld with Robair's otherworldly cymbal scrapes, or cackle crone-like to join the percussionist's static tuning actions. For his part, Robair triggers wave forms that can be compared to a pre-recorded tape running backwards, a vacuum cleaner's roar, Morse code and insistent doorbell buzzing. On "A Genius of Trunnels", for example, he outputs church organ-like striated tones that finally reveal themselves as cymbal and gong battering, while she explores plunger tones and growls from the capillary valves. Eventually, cymbal vibrations mix with the brassy duplication of distant thunder. On The Downy Monsters", the longest track, Ulher's near-polyphonic output reaches almost accordion-like compression as air and metal vibrate around single breaths. Completing the impulse as if he too was manipulating another part of her instrument, Robair triggers a complementary pulsating sequence, shoveling and sawing on unyielding hard surfaces. Sputter replicates how well two committed improvisers can think and create in a recording studio.
Ken Waxman at JazzWeekly, January 9, 2006