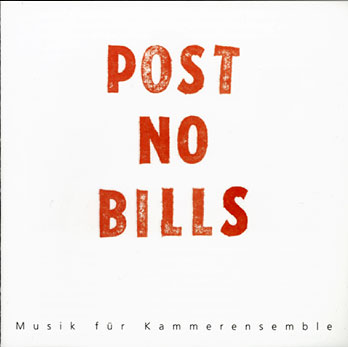 Carl Ludwig Hübsch / Chris Weinheimer / Ole Schmidt / Robert Schleisiek / Tom Lorenz
Post No Bills - Musik für Kammerensemble


Go to the mailorder page


Listen to a 30 second soundfile of this release (~80kB).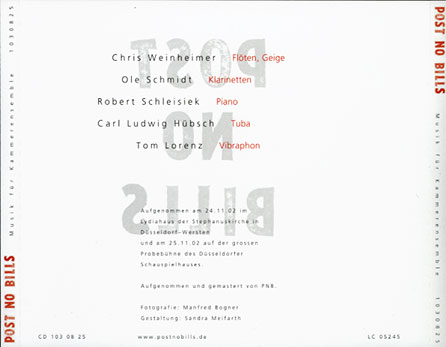 POST NO BILLS, 1994 als Jazzensemble gegründet, versteht sich als ein Ensemble aus improvisierenden Musikern/Komponisten, das sowohl im Bereich der zeitgenössischen "improvisierten Musik" als auch der "Neuen Musik" arbeitet. Das Interesse an der Entwicklung eigener Improvisationskonzepte und die Beschäftigung mit "freier" Improvisation und mit "offenen" Kompositionen, die sich zur Zeit vor allem auf Cages Variations & Number Pieces und auf die Exercises von Christian Wolff konzentriert, hat nun zu einer weiteren Zwischenbilanz geführt mit dem schlichten Titel Musik für Kammerensemble (Berslton 1030825). Der Musik, die aus 8 Teilen und dem Bonustrack 'Trio + Asphaltiermaschine' besteht, liegt, in Kurzform, folgendes Verständnis von Improvisation zu Grunde: "Improvisation ist ein politisches Modell, weil sie spielerisch nach der Grundvoraussetzung für eine freie Kooperation forscht: die unhierarchische Kommunikation zwischen autonomen Subjekten... Bedürfnisse müssen nicht
gerechtfertigt werden. Sie sind unerklärlich. Das Recht - die Richtung, in der sie betrachtet, behandelt werden - muss gemeinsam verfertigt werden, bedarfsorientiert... Improvisation ist eine alltägliche Tätigkeit. In der Kunst wird sie ein Spiel. Aus dem Raum der Kunst heraus bringt sie (endlos, zweckfrei) Möglichkeiten von Zusammenarbeit an den Tag." Neben den Gründungsmitgliedern, dem Flötisten & Geiger Chris Weinheimer (*1964, Homburg) und dem Klarinettisten Ole Schmidt (*1963, Mainz), bringen der Pianist Robert Schleisiek (*1965, Osnabrück), der Düsseldorfer Vibraphonist Tom Lorenz, der mit Das Böse Ding bekannt geworden ist, und der Tubaspieler Carl Ludwig Hübsch (*1966, Freiburg) ihre Vorlieben und breit gefächerten Erfahrungen mit Jazz, Musica Nova und Theatermusiken in dieses Spiel ein. Die klangliche Resultante, eine reduktionistische Musica reservata, eine stenographisch, pointillistisch, diskret tastende (1, 7), minimalistisch dröhnende (2, 4, 6) oder pulsierende (3, 8)
oder beides mischende (5) Klangtransparenz, besticht durch ihr luftiges Binnengewebe, das von vorsichtigen Gesten lebt und - mit nur einer kurzen Kulminationsspitze (7b) - ins Meditative deeskaliert. Der Bonustrack taucht ab ins Dunkel schnarrender, sporadisch aufschrillender, immer ominöserer Drones von Bassklarinette und Tuba plus X, die den imaginären Zengarten brütend melancholisch abschatten. Die Bedürfnisse der miteinander kommunizierenden Subjekte dringen allenfalls auf Strümpfen über die Schwelle dieser Ryoanjigartenmusik. Die autonome Entscheidung, nett zueinander zu sein, scheint schon gefallen, bevor der erste gemeinsame Ton erklingt. Das ändert nichts an der großen Schönheit dieser Musik, ich versuche lediglich ihre Voraussetzungen wieder vom Kopf auf die Füße zu stellen. Die Musik setzt Gemeinsamkeit voraus und führt sie vor, sie stellt sie nicht her. Der entscheidende Punkt steht in Klammern: "(in der privilegierten Situation der Zweckfreiheit)". Daher gibt es nur eins: Privilegien für alle, Tod den Zwecken.
Rigobert Dittmann, Bad Alchemy 46
On occasion imagining themselves with lower standing than so-called classical composers, improvising musicians create program music, hoping to theoretically reach a similar elevated level – especially if the results are presented in concert. Many times this yearning expressed in semi-notated works is further staunched by utilizing strings and other orchestral instruments for similar purported prestige.

Musick für Kammerensemble has no back story. It's nearly 74 minutes of uncompromising contemporary chamber music played by an unusually-constituted ensemble of clarinet, piano, tuba, vibraphone and Christoph Weinheimer doubling flute and violin.
Homburg-born multi-instrumentalist Weinheimer and Frankfurt-born clarinetist Ole Schmidt are involved in dance, theatre and chamber projects as is Onasbrück-born pianist Robert Schleisiek. The first two helped create a 24-hour improvisation involving chamber ensembles and soloists, as well as computer-generated sound production and player piano compositions. On the other hand, Cologne-based tubaist Carl Ludwig Hübsch regularly works with improvisers like trombonist Wolter Wierbos from the Netherlands, while vibist Tom Lorenz, from Düsseldorf has played with local jazzers such as bassist Dieter Manderscheid anmd as a soloist with the WDR Big Band.
There's no chance of a "Flying Home" or "Bag's Groove" quote appearing here when the metal bars are struck with tremolo vibrations however. Patterns resembling tam-tams or tubular bells are more likely to be heard, though most are probably courtesy of Lorenz. Often he'll meld busy rubato arpeggios with the piano, although most
of the pieces are built on pastel tinctures rather than any sense of dynamics.
On tunes such as the nearly 11½-minute track five, Schleisiek cross fades ghostly piano chords including single string microtones, but the end result is more descriptive than some of Yedid's more restrained portions of Passions. Here too, the vibist gradually reveals a simple line as the tuba burbles pedal point, the clarinet extends smears to split tones and fiddler Weinheimer creates circular spiccato textures.
For his part Schmidt's simple trills relate back to American chamber jazzman Jimmy Giuffre and the minimalist reedists who followed him. Yet even with Schleisiek's patterned, unfussy piano lines and the occasional cymbal pop, the effect skirt preciousness because of Hübsch's sonorous and burnished pitch-sliding. Should the sort of romanticism that affected some of the tracks on Opus threaten to arise here, then it's almost literally blown away by the tubaist and high-pitched sul ponticello fiddle squeaks.
The more than 23½-minute final track detaches the five even more from impressionism, as Hübsch moves from a stirring display of buzzed lip growls, valve twisting and blocked tubes to effervescent counterpoint with chalumeau clarinet lines. When these accelerate to harsh whistling from the reed and cavernous pressure from the brass beast, the constricted tones define Post No Bills' parameters better than any written libretto. Concluding with thick, subterranean tuba snorts and polyharmony from the others the CD confirms that in the proper hand instant compositions can make more of an impression than formal ones.
Ken Waxman at JazzWeekly