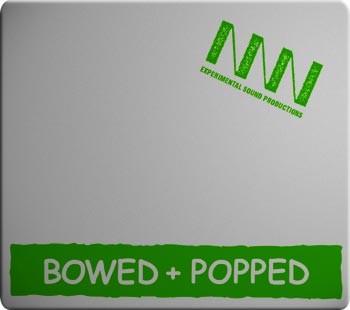 Michael Vorfeld
1. x+x+x 10:12

Stephan Froleyks
2.- 8. Hispeedo 36:37

Hans Tammen
9.- 12. Styrofoam 22:27


Go to the mailorder page


All Music Guide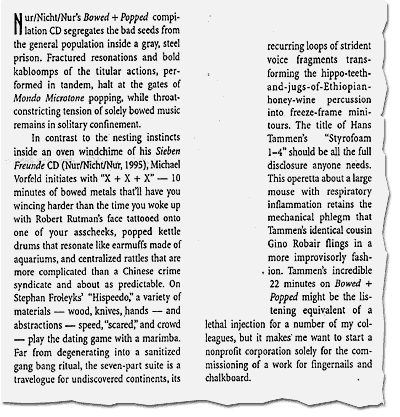 Bananafish 14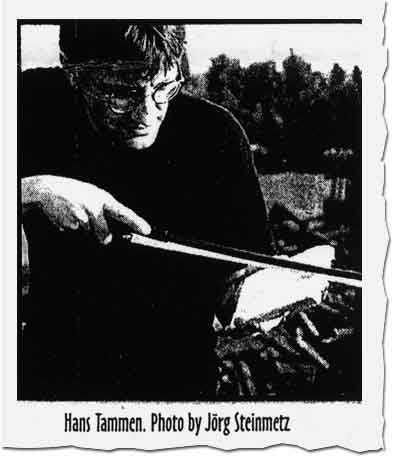 Bad Alchemy 36
Michael Vorfeld contributes with one track that last at least 10 minutes. Again it is the combination of several stroke and beat instruments that makes the music. The music goes towards ambient. The same with 7 tracks of Stephan Froleyks, mostly of the instruments are from wood and that creates rhythmical music with a japanese touch. Each track he uses one specific material as an instrument such as wood, a knive, knives and even two hands and a crowd, combined from time to time with samples. Very fresh and fine music, one of the highlights on this CD.
Hans Tammen contributes 4 tracks called styrofoam 1 - 4. At these tracks only one material has been used as instrument and that is styrofoam ofcourse. The idea to use styrofoam as an single instrument is if I know new, only the result is rather disappointed, no rhythm, no soft ambient music. Not of this all only continuesly sounds of pieces styrofoam that gets rubbed at each other in several ways. When you listen carefully after a while the sound transforms as a combination of several sounds, but when there are to long high tones you need to have strong nerves.
Geert De Decker at Sztuka Fabryka
These two disks seem -- and the details aren't too clear, what with the elusive packaging and my half-remembered high-school German -- to compile works by young composer/performers working at verious different edges of avant garde new music. These packages really do celebrate a triumph of design over content: desirable metal boxes containing two or three gnomic cards and a CD attached by a rubber nipple.

Michael Vorfeld's card contains a series of diagrams of percussion instruments in three numbered columns, with three lines of numbers tacked on the bottom; it seems to be the score for the piece which opens "Bowed and Popped". "x+x+x" certainly sounds like a percussion trio, so perhaps that's what it is; presumably it's performed by Vorfeld using overdubs, which is significant because, if the insert represents the score (it might not) then the piece is basically an improvisation in which the instrument to be used is the only composed parameter. Obviously influenced by electroacoustics as much as by the Stockhausen school of rythmic and textural complexity pursued to the fullest extent, the result is a very listenable, constantly-changing performance which sounds familiar enough for new music fans to find it unthreatening but has enough surprises up its sleeve to keep it interesting.
It does, though, feel rather like the hors d'oevre to Stephan Froleyks half-hour examination of mercuriality, "Hispeedo". Witty and light-hearted, it takes fast but apparently simple percussion ideas and works them into compelling musical textures, the likes of which this writer has never quite heard before. His techniques owe a great deal to Steve Reich's love of allowing loops to move in and out of phase with one another, but here it's put to rather different uses. The eight sections are like the panels of a minimalist freize -- all the similar, yet all unique, eight views of the same ideal object. Although focussed on a single concept in a way that isn't very fashionable these days, this is an extremely effective piece, and it benefits by being clean, precise and deliberate. It would have been disastrous had Froleyks tried to do several things at once here, but because he doesn't it's something of a must-hear composition.
The final piece on "Bowed and Popped" is by Hans Tammen, better known as a relentlessly inventive guitarist but here found playing... styrofoam. The piece is simply called "Styrofoam", lasts a little over twenty minutes and is broken into four sections; on the first and fourth he uses a bow, on the second he seems to "pop" the styrofoam with his fingers and the second involves god knows what. It all sounds just as you'd expect; squeaky, unsophisticated and rather silly. Nothing wrong with that, of course. It can also set your teeth on edge, and in fact if it doesn't you may be only half-human. This strange collision of a friendly material with a sometimes rather horrible sound is interesting enough, and Tammen's overdubbed textures are sufficiently imaginative, that there's something of real merit here. When the horsehair really is biting into those big which chunks of packaging, though, one does sometimes wish he'd go back to his guitar. Which he can make sound like someone bowing styrofoam, of course.
If those were three wildly dissimilar things to cram onto one CD, there are some more on its companion release, the saucy-sounding "Rubbed and Blown". Van Bepper and the mysteriously overcapitalised RoN Schmidt spend quarter of an hour doing five completely disjointed things -- a parody of high-energy free jazz, isolationist noises, a piece composed mostly from the sounds of pages turning and so on -- before launching into the last movement of their contribution, "50/50". This turns out to be a barrage of droning, barely-changing synthesiser sounds decorated with a sprinkling of ugly samples. It's pretty much impossible to make any sense out of this piece except as a sonic analogue of those vitrines found in conceptual art exhibitions containing, say, a broken doll, a spoon, a disassembled watch and a crisp packet. We are presumably intended to allow our imaginations to form connections between these juxtaposed, but otherwise unrelated, elements. Whether or not it works is largely a matter of taste, and of the frame of mind with which you approach it. From a technical point of view, it's a well-constructed piece and there's certainly plenty to think about here.
Partnering this peculiar composition are three from Paul Hubweber. "Zellen" takes small cells of notes and gives them to what sounds like an ensemble of brass instruments, who play them quickly in continuous improvised lines. The notes shift and change slowly, but the overall effect is of a dense slab of sound whose characteristics gradually metamorphose. About two-thirds of the way in, some processing becomes evident, further cementing these individual lines into a single whole to form a very effective piece. "1996" also begins with "brass" sounds -- although this time the instruments sound home-made -- with deliberately clumsy studio edits. These eventually give way to other "junk" sounds, co-existing in a virtual ambiance of industrial noises. There's nothing terribly unfamiliar here, but it's effectively done, although the abrupt ending sounds decidedly odd. "Ab+Auf" is a far more minimal affair which, like "Zellen", is performed by a live ensemble. Hubweber's idiosyncratic writing style really comes to the fore in this, the longest and most accessible of his pieces on this disc, and the combinations of slowly sweeping dones with filligree soloistic gestures make this the album's essential cut.
These are two discs crammed with music which, for the most part, is quite unlike anything you're likely to hear elsewhere. It's exciting new work and, in common with much of what Nur Nicht Nur puts out, it's outsider stuff which doesn't fit into the academy, the theatre or the improv clubs. Those with an interest in new music should pick these up without hesitation: both have high points, and while it's tempting to recommend "Bowed and Popped" on the basis that Forleyks' piece is a long one, it would be wrong to neglect its companion, with Hubweber's wonderful "Ab + Auf". Difficult listening which repays the efforts it demands.
Richard Cochrane